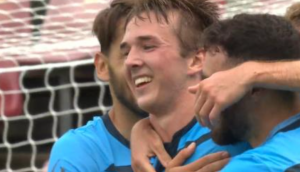 Six weeks before the 20/21 A-League season began, I took a very close look at the Sydney FC squad and their chances of repeating their premiership success. 
At the time, I was of the opinion that Sydney's success or failure would likely hinge about 80% on whether or not they properly replaced Adam Le Fondre. 
If Sydney could get a replacement striker of the same quality, then I thought they would again be premiership favourites. If the replacement forward was to be a significant decrease in quality to around a slight step up on fourth choice Luke Ivanovic – which at the time seemed to be a possibility – then I had them pegged for mid table. If they really rolled the dice on Patrick Wood, who had clocked 11 goals in 11 matches for Sydney in the most recent NPL NSW Men's competition, then I thought they could be battling for finals. 
Much has been said about Le Fondre's goal scoring prowess over the past two seasons. It's indisputable that the past six A-League seasons – where Sydney FC have had a striker that is a standard above the competition's defences – have been more successful than the nine seasons prior. 
What is often left unsaid is how during Alfie's time at the club, Sydney FC had quite a significant amount of difficulty scoring from midfield. Last season in particular, where Sydney's defence was one of the A-League's best ever (conceding less than a goal per match), they still really needed Le Fondre to do the business down the other end of the park. 
2018/19 A-League Season
47 total goals by Sydney FC

18 goals by Le Fondre, 38.3% of total goals.  

13 goals by the midfield, 27.66% of total goals.

Scored by 6 midfielders, top midfield scorer de Jong with 4.
2019/20 A-League Season
49 total goals by Sydney FC

21 goals by Le Fondre, 42.86% of total goals.  

11 goals by the midfield, 22.45% of total goals.

Scored by 5 midfielders, top midfield scorer Ninkovic with 5.
Six weeks ago, the midfield of the Sydney squad was basically settled for 20/21, very similar in personnel to last season, and still similar to 18/19. At that time, 12 goals was a reasonable expectation from Sydney's midfield this A-League season, with 15 being a notable improvement.
However, the likelihood of Sydney's midfield even maintaining their 11 goals from 19/20 didn't seem high, as: 
Expecting more than 5 goals from Ninkovic this campaign was probably unreasonable

Caceres, Baumjohann, and Retre had done little in the past 6-12 months to indicate they'd be increasing their low scoring to provide more than a handful of goals between them

With Brattan scoring only 6 goals in the past five A-League seasons (including 4 in one season, 18/19), he was unlikely to better O'Neill's single goal contribution from last season, and may have been in line for another season of zero goals
Up front, six weeks ago Sydney had a very big question mark over Barbarouses being able to offer anything of value this season based on his performances in 2020, a mostly-unproven-in-the-A-League Buhagiar, and a still developing Ivanovic.
It was honestly conceivable at that time that Sydney could score around 30-35 goals this season, for example:
Buhagiar 10

Midfield 10

Barbarouses 5

Ivanovic and Wood 5

Defence 5 (Sydney's defence scored 4 last season and 6 in 18/19)
Note: These numbers are just a feasible example where the goals could have been expected from; each of those five sources could have been expected to vary slightly up or down. 
Following the first match of the 20/21 A-League season, my outlook on Sydney FC's chances have improved from very worried to tentatively positive if still slightly apprehensive. 
Trent Buhagiar has shown in recent ACL matches that he can score against high quality opposition, with 4 goals in 4 matches fairly indicative of his current form. I still think that this season it's nowhere near definite that he'll be scoring consistently match-to-match and managing to make the most of nearly all his opportunities, but a goal every two matches is a fairly reasonable expectation. 
Bobo signing for Sydney in is a huge factor towards likely success. He's a proven goalscorer in the A-League, and it's almost inconceivable to think he won't bring goals to the table. Even if he drops off on his goals per minutes from 16/17 and 17/18, and his comparative game time is reduced as he's often playing off the bench, it's still a near certainty Bobo will deliver a lot more goals than Ivanovic & Wood would have brought to the table with the same game time. 
Barbarouses now has Baumjohann and Bobo on the Sydney FC bench. Even with Corica's favoured formation suiting Barbarouses the most of those three, there's now two high calibre players providing the pressure that needs to be on him to perform, or to find himself quickly replaced from the starting line-up. It's now vital for him to step up and actually contribute goals and assists, or for it to be at most three matches more before he finds himself riding the pine. 
Brattan scoring yesterday against Wellington and his recent ACL goal are an indication that he will offer more goals this season than expected. Already one of Sydney's best players, adding a handful of goals into his repertoire would see him make a strong argument for being the A-League's best midfielder. 
Niewenhof's goal yesterday and his recent performances show Sydney now have five capable midfielders – Baumjohann, Caceres, Retre, Niewenhof, and Zuvela – vying for only two midfield starting spots. All of them are going to have to be making the most of every single minute they get given. Offering goals would be a huge way to differentiate from the pack, and I expect more goals from this group as a result. 
Regarding goals, come the end of the 20/21 A-League season, where I now see Sydney FC landing is more like: 
Buhagiar 12-13

Midfield 12-15 (potentially Ninkovic with ~5, and ~2 each from all the other midfielders bar Zuvela)

Barbarouses, Ivanovic and Wood 8-10

Bobo 7-8

Defence 5
This would put Sydney FC somewhere between 44-51 goals this A-League season. 50 goals is honestly a fairly realistic expectation, with 50-55 possible but not hugely likely. 50 goals would be one more than last season and seven more than 18/19, though a huge drop off from the 66 and 55 goals Sydney scored in 17/18 and 16/17 respectively.
The key to Sydney's A-League success in 20/21 likely won't come from a single striker as it often has in the past six seasons. The whole squad is at a level of quality that if players deliver to general expectations based on their past performances, then Sydney should be able to win the league again this season.
– Thomas Grealy