A-League Round 1 – Preview
Wellington Phoenix vs Sydney FC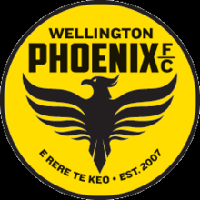 WIN Stadium
Saturday 2 January 2021
Kick off: 5:05pm
Match Preview
Discuss this game on the forum here
As we wave goodbye to a rubbish 2020, we can look forward with some optimism to 2021 and with it a new A-League season. After the grand final win last season and the condensed Asian Champions League campaign, we can now move on to what will hopefully be a fairly normal A-League regular season.
One thing that certainly hasn't changed is that we've put together one of the strongest squads in the league, and we've done that simply by re-signing just about the entire squad which won the league last season. The obvious exception, and probably the main worry going into this season, is the absence of Adam Le Fondre, who has gone on loan to India. We haven't replaced him, because Corica seems confident that Trent Buhagiar can do the job. It's going to be a big step up for Buhagiar this season, though he showed in the ACL that he is capable of performing at a high level when given the chance.
Wellington Phoenix, on the other hand, have seen a decent amount of turnover in their squad this season, particularly among key players. Steve Taylor has been a rock at the back for them, but will no longer be anchoring their defence. The Phoenix defence will also be missing Liberato Cacace, who provided so much attacking potency and speed at full-back. Up front, Wellington will also be without Gary Hooper's goalscoring ability.
We shouldn't write Wellington off however. People did that last season and Talay was definitely able to get the most out of his players. There's no reason he can't do that again this time around. Wellington will be much more reliant on youth this season, as they have chosen to replace their more experienced players with younger options. While these players get used to the league, Wellington are going to be very reliant on Ulises Davila to pull together the attack. One other major signing has been Tomer Hemed, the Israeli striker who has a good strike rate at Championship level. If he can gel quickly with Davila, they could pose a potent strike force.
As stated, our squad remains largely the same, but some question marks still remain in terms of our player selections. While it is very possible, and maybe even likely, that Corica will start the same team he played through most of the season, just with Buhagiar in place of Le Fondre, it is also possible he might shake things up a little bit.
The main question mark is who will partner Luke Brattan in midfield. Paulo Retre is the obvious choice, and fulfilled that role for much of last season, but young Calem Nieuwenhof showed during the ACL that he was more than capable. He was calm and very tidy in that position, almost reminiscent of Brandon O'Neill when he first started with us. While I suspect that Retre will start this game, I wouldn't be surprised if Nieuwenhof has made that position his own by the end of the season.
The other major question mark is who Corica will prefer out of Anthony Caceres and Alexander Baumjohann. By the end of last season, it was clear that Corica was preferring Caceres to Baumjohann in the right-wing position, and certainly Caceres' performances deserved that. The question is if that preference will carry over to this season. Corica didn't give much of a hint at the ACL about his preferences, and managed to find a way to play both of them. Baumjohann's wage and reputation make me think that he will start on the right and it will be up to Caceres to win that position a second time.
Just one final note on the role Luke Ivanovic will play this year. I get the sense that this year will be make or break for him, either playing for us or going elsewhere for more game time. As such, I would expect we'll start to see him come on more around the 70th minute mark to run at defenders, playing the same role that Buhagiar did last season.
Given these things, I think we'll line up like this: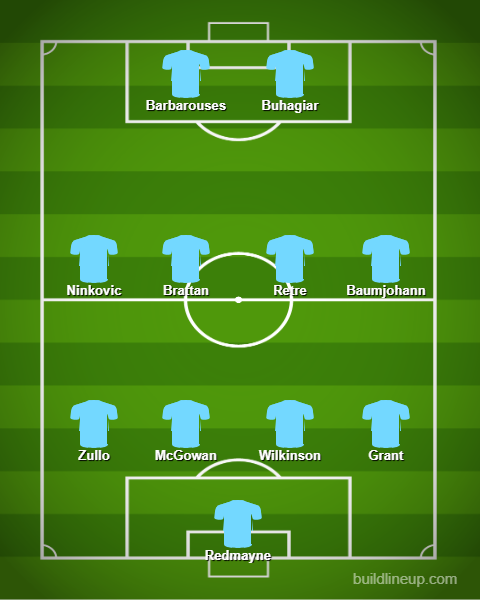 For those catching public transport down to Wollongong, the Cove Express details can be found here: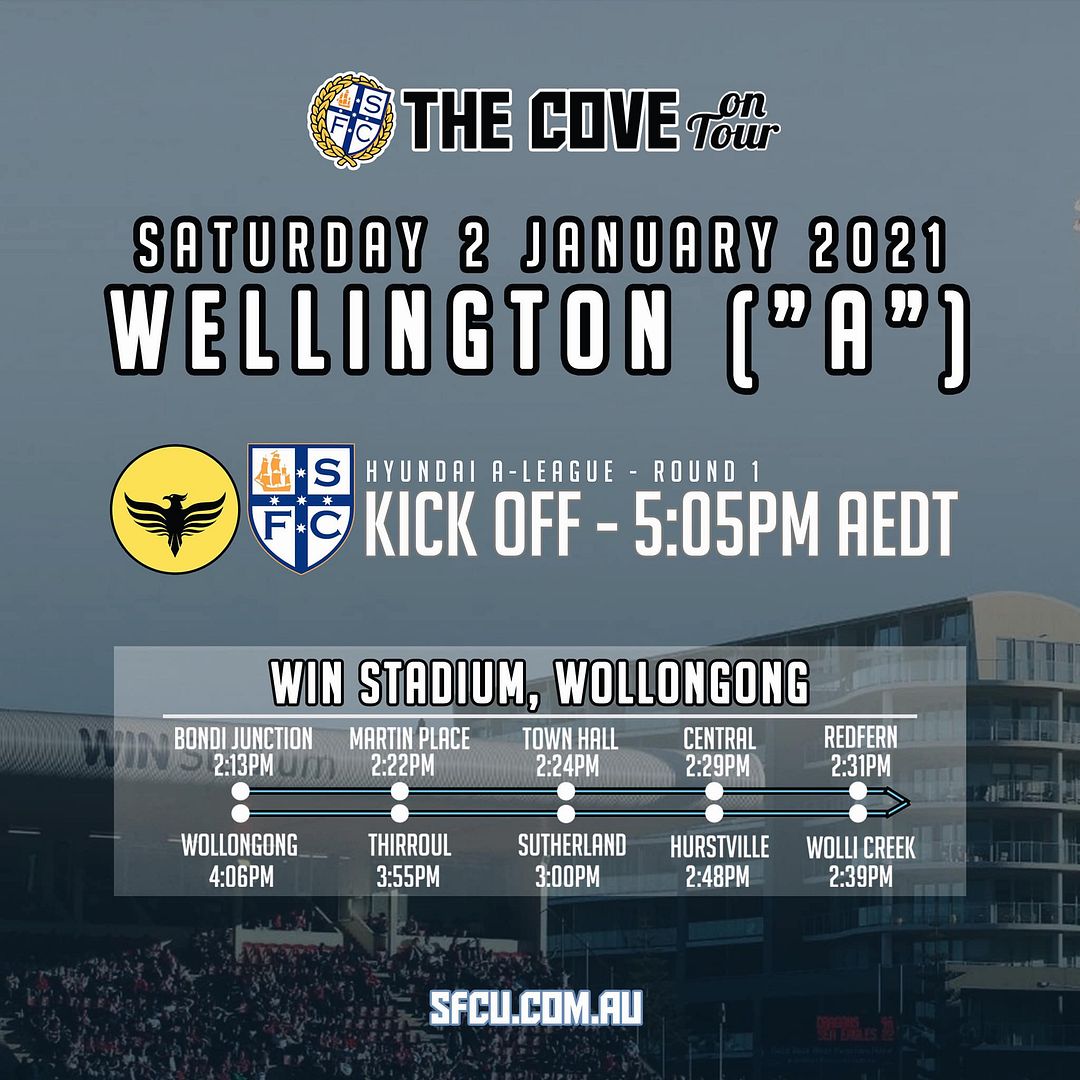 Discuss this game on the forum here
Key Statistics
Sydney FC have only played two competitive fixtures at WIN Stadium, a 3-0 FFA Cup win against Wollongong Wolves in 2016 and a 0-0 draw against Newcastle Jets in 2015, which is memorable for Marc Janko having a superb goal ruled offside. Sydney also played three pre-season cup games in Wollongong, with one win and two losses.
Despite the fact that Wellington Phoenix have been one of the teams to most challenge us in recent seasons, Sydney have only lost 1 game in the last 12 against the Phoenix. This was a 3-1 loss in December 2018.
Trent Buhagiar scored his 12th goal for Sydney during the ACL campaign (30 games). This draws him equal with John Aloisi (12 goals in 40 games) and Sebastian Ryall (12 goals in 188 games).
Previous Matches
Head-to-Head
Wins: 23 (56.1%)
Draws: 5 (12.2%)
Losses: 13 (31.7%)
Sydney FC record at WIN Stadium
Wins: 1 (50%)
Draws: 1 (50%)
Losses: 0 (0%)
Last 5 Matches
17/07/20 – Sydney FC 3 – 1 Wellington
21/12/19 – Wellington 2 – 2 Sydney FC
20/10/19 – Sydney FC 2 – 1 Wellington
23/02/19 – Wellington 0 – 1 Sydney FC
23/01/19 – Wellington 0 – 1 Sydney FC
Records
Biggest Win – 6 goals:
19/01/13 – Sydney FC 7 – 1 Wellington
Biggest Loss – 2 goals:
5 occasions: 4/1/12, 6/10/12, 20/12/14, 12/03/16, 8/12/18*
*Note: We did lose by 3 goals in a pre-season cup match in 2007-08 but I do not count this as a competitive fixture.
Most Goals in a Game – 8 goals:
19/01/13 – Sydney FC 7 – 1 Wellington
Most Appearances vs Phoenix – Alex Brosque (23)
Most Goals vs Phoenix – Bobo (7)
Note: Appearances and goals only include league games, finals, FFA Cup, OFC and AFC Champions League and Club World Cup.