A-League Round 3 – Preview
Western Sydney vs Sydney FC
Parramatta Stadium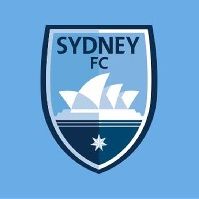 Saturday 26 October 2019
Kick off: 7:30pm
Match Preview
Discuss this game on the forum here
This derby stands out as a particularly important one. It's one of those weird quirks of this rivalry that whenever we are having a good season they having a bad one and whenever we're having a bad season they're having a good one. This derby is remarkable because, even though it's early days yet, both teams look like they are going to have a good season and, for the first time, our clubs are sitting first and second on the table.
Western Sydney look considerably better than they did last season, with two wins from their first two games. Their first game was against Mariners and a Duke brace helped them to win that 2-1. However, the second of those goals only came from a penalty and so there was every chance they could have had a draw in that game. Certainly they didn't always look comfortable against Mariners. They followed that up with a 2-1 win against Melbourne. Their new German Meier showed what he can do in that game and looked very lively. He's likely to play a big part in the game tonight.
At the back, while they haven't kept a clean sheet yet, Western Sydney do look much improved. In Lopar they have a keeper who is a massive step up from Janjetovic, while Georgievski has been looking good and of course Jurman has provided a lot of strength in the centre of defence. The midfield leaves a bit to be desired and it's likely that we will look to play through the middle as a result, giving our creative attacking players a lot of latitude to play their way.
In terms of our selections, Zullo is still out and so we are left with a bit of a headache at left back. Corica started King there in the first game and then started Retre there in the second game. I suspect we will start with Retre again this time, with Corica preferring experience to youth. Personally, I think King makes a massive difference to our ability to stretch play down the left while Retre cutting in from left back just means that he gets in our midfielders' way. However, I can see the argument for rewarding Retre for playing the utility role for the past couple of years.
We really did get away with the win last week and as a result we may have to think about the way that we play up front. Barbarouses really needs to stop trying so desperately to score and instead he has to look to play in Le Fondre more often – there were a couple of situations last week where that would have been valuable. Certainly we saw in the first game glimpses of what their partnership can look like. We also need to give our wide creative players more options in the box when they pick up the ball. This is where I think King would be a really valuable addition, as he could help to open up those gaps in defence. Ivanovic may also be a valuable player to bring on against tired legs because it isn't Western Sydney's fastest defensive partnership ever.
Ultimately though, what is going to matter most is the heart that the players bring to the game; there are plenty of players in this team who have played in previous derbies and know what this game means to us fans. Not only that but you have Baumjohann out there with something to prove against a club where he feels he wasn't given a fair run. Barbarouses has also proven in the past that he's a big game player and hopefully he can bring that to this game.
I can't anticipate that we will change our line-up too much for this game, if at all, so here's how I think we will land: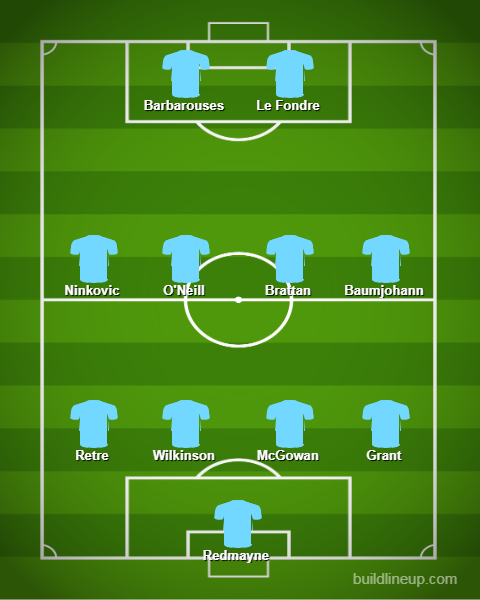 The Cove express details are here, with pre-drinks at the Royal Exhibition Hotel, next to Central station: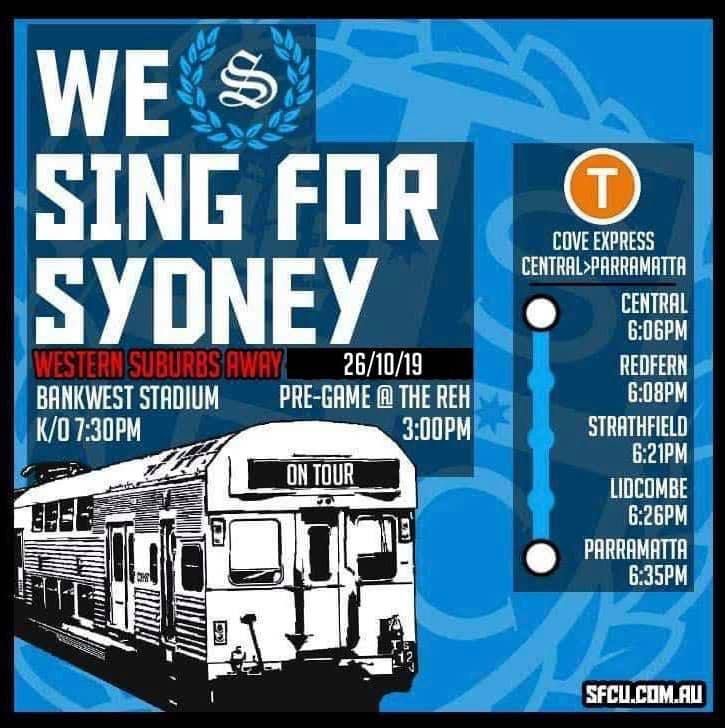 Discuss this game on the forum here
Previous Matches
Head-to-Head
Wins: 12 (54.5%)
Draws: 6 (27.3%)
Losses: 4 (18.2%)
Sydney FC record at New Parramatta Stadium
This is Sydney FC's first game at this ground. The record at the previous Parramatta Stadium was 6 wins, 2 draws and 1 loss.
Last 5 Matches
13/04/19 – Western Sydney 1 – 1 Sydney FC
15/12/18 – Western Sydney 1 – 3 Sydney FC
27/10/18 – Sydney FC 2 – 0 Western Sydney
6/10/18 – Western Sydney 0 – 3 Sydney FC
25/02/18 – Sydney FC 3 – 1 Western Sydney
Records
Biggest Win – 5 goals:
9/12/17 – Western Sydney 0 – 5 Sydney FC
Biggest Loss – 2 goals (2 games):
15/12/12 – Sydney FC 0 – 2 Western Sydney
26/10/13 – Sydney FC 0 – 2 Western Sydney
Most Goals in a Game – 7 goals:
28/02/15 – Western Sydney 3 – 4 Sydney FC
Most Appearances vs Western Sydney – Rhyan Grant (16)*
Most Goals vs Western Sydney – Alex Brosque (6)
Key Statistics
Sydney FC's away record in the derby is 7 wins, 3 draws and 2 losses.
Western Sydney haven't won in the last 7 derbies. In that time Sydney FC have won 5 and drawn 2 of the matches between these sides, scoring 19 goals and conceding 5.
Western Sydney's Matthew Jurman played in 8 derbies for Sydney FC, scoring in one of them (a 3-1 win in March 2014).
Note: Appearances and goals only include league games, finals, FFA Cup, OFC and AFC Champions League and Club World Cup.