A-League Grand Final – Preview
Perth Glory vs Sydney FC
Optus Stadium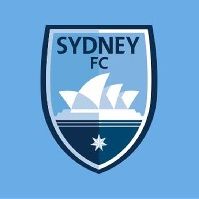 Sunday 19th May 2019
Kick off: 4:30pm (local), 6:30pm (AEST)
Match Preview
Discuss this game on the forum here
I've been sick all week so I haven't written up a review of the Melbourne game, but – wow. Everything about it was amazing. It will be one of those nights that we will be talking about for years to come and, best of all, it looks like that might be Muscat's last meaningful game in charge of Melbourne. We beat him so bad that he feels the need to flee the country.
But as great as last Sunday was, this is the game we really have to win. This is the club's 5th Grand Final and we are going up against a Perth side who have never really looked like losing this season. They have lost only 3 games all season and at times even looked like they were going to come close to the points total of our Record Breakers. Last weekend, however, they struggled past a dogged Adelaide side, with Reddy's heroics in the penalty shoot-out all that kept them in this finals series.
Speaking of Reddy, in typical Popovic style, Perth have got to where they are on the back of a very well organised and solid defensive unit. Unlike most squads the A-League has seen, Perth play with a back three. Spiranovic, Djulbic and Lowry combine well to stop most attacks in their treads – Perth only conceded 23 goals in the league this season. With this solid back three, Davidson and Franjic are largely freed up from defensive duties and Davidson in particular can feel free to bomb up and down the flanks.
In midfield, Perth have another strong defensive-minded pairing. Kilkenny has been fantastic this season, breaking up play and starting off Perth's attacks. Juande next to him has been a little less heralded this season, but his distribution has proven equally important for connecting defence and attack. The big-ticket item in midfield, however, is of course Castro. He is in the best form of his time in Australia, with 9 goals this season and huge contributions outside that to Perth's attack. O'Neill will probably spend a decent amount of the game trying to close him down and that's really going to have to be crucial for us.
Up front, Keogh and Ikonomidis provide arguably the most potent front two in the league. They are both pretty clinical and together than have a strong mix of speed, aggression and guile which has made them a handful to control. Chianese has also provided some attacking impetus off the bench this season and gives Perth another strong option, particularly if the game goes to extra time.
I wrote about our squad before the Melbourne game and everything I wrote there still applies here. That said, there's a bit of a question mark over De Jong this time around. There was some reporting that he had a fever a couple of days ago and had to skip training. He's travelled to Perth but it isn't clear yet what condition he is in. Hopefully he is still alright for the game because he showed against Melbourne just how much he adds to this team. It is also likely that we won't see games for some of our youth players – obviously, it is often better to go for experience in these big games, and also there is an ACL game on Tuesday that we need to put a squad out for and you can bet we will be fielding a whole bunch of kids there.
The big question on our side is if last weekend was our final. I don't know about others, but this game feels equally as important as the previous game, which is odd given that there is silverware directly on the line for this one and there wasn't against Melbourne. We can only hope that Corica can get them up for this one – the thing I am most nervous about is the possibility that the players go out there and their hearts just aren't in it. Fingers crossed that doesn't happen.
I believe we will line up as follows, exactly the same as the Melbourne game:
You can see the Cove's meet-ups, both in Perth and in Sydney below: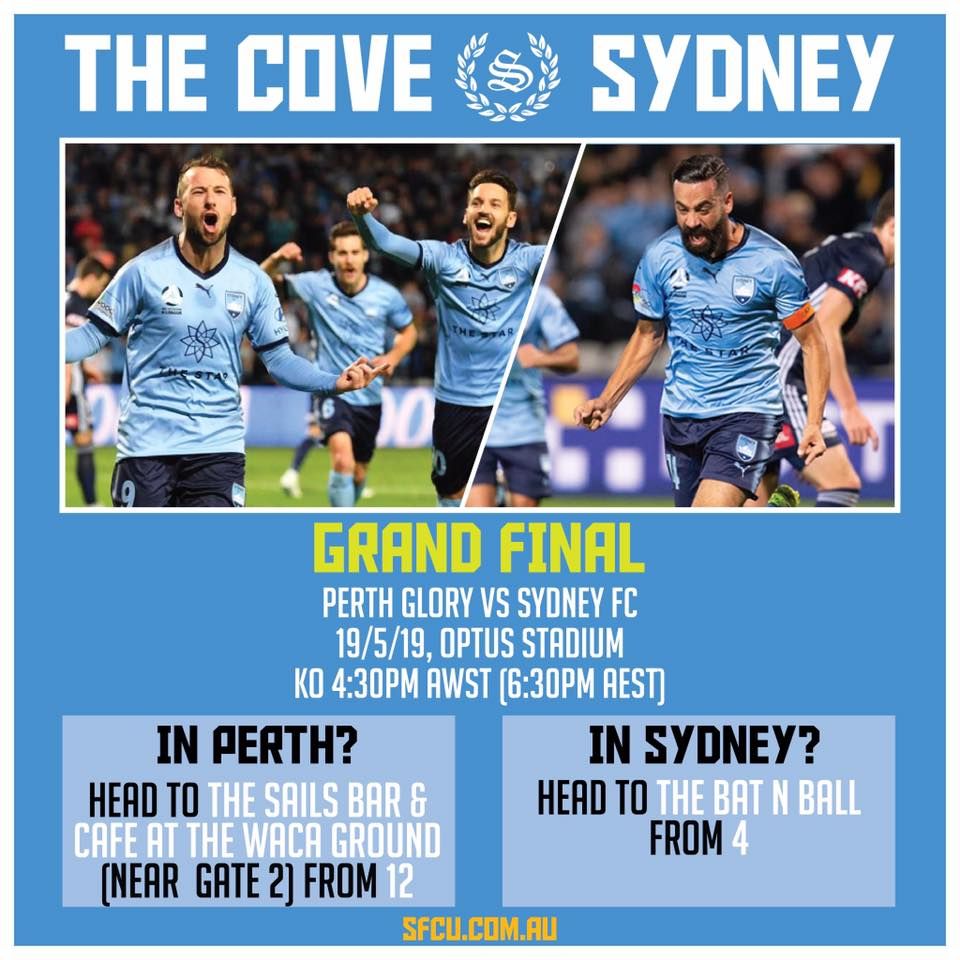 Previous Matches
Head-to-Head
Wins: 26 (59.1%)
Draws: 9 (20.5%)
Losses: 9 (20.5%)
Sydney FC record at Optus Stadium
This is Sydney FC's first competitive fixture at Optus Stadium. This will be the 49th stadium where Sydney FC have played a competitive game of football.
Last 5 Matches
18/04/19 – Sydney FC 1 – 0 Perth Glory
9/01/19 – Perth Glory 3 – 1 Sydney FC
21/12/19 – Perth Glory 1 – 2 Sydney FC
29/03/18 – Perth Glory 2 – 3 Sydney FC
30/12/17 – Sydney FC 6 – 0 Perth Glory
Records
Biggest Win – 6 goals:
30/12/17 – Sydney FC 6 – 0 Perth Glory
Biggest Loss – 3 goals:
21/12/08 – Sydney FC 1 – 4 Perth Glory
Most Goals in a Game – 7 goals:
31/08/08 – Sydney FC 5 – 2 Perth Glory
Most Appearances vs Perth – Alex Brosque (25)*
Most Goals vs Perth – Alex Brosque (12)*
Key Statistics
The only previous finals game between these two clubs was in 2016-17, which Sydney FC won 3-0 thanks to goals from Brillante, Buijs and Holosko.
Sydney FC have scored in each of the last 13 games against Perth, for a total of 36 goals. Perth have scored 10 goals in that time.
Tony Popovic has won 5 of his 19 games against Sydney FC as coach.
Adam Le Fondre has scored in all 3 games against Perth this season. He has scored 6 goals in his last 9 games.
If he plays, this will be Aaron Calver's 50th league or finals game for Sydney FC and it will be his last in this stint at the club.