A-League Round 10 – Preview
Sydney FC vs Brisbane Roar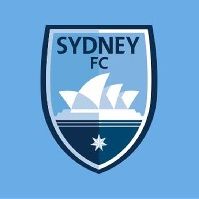 Jubilee Stadium
Saturday 29 December 2018
Kick off: 7:50pm
Match Preview
Discuss this game on the forum here
Today Brisbane Roar announced that John Aloisi would be stepping down as head coach, effective immediately, and he would be replaced by Darren Davies, one of Aloisi's assistant managers and former assistant at Melbourne Victory. Given that he is only stepping into the role for the first time, it is hard to say how his style will differ from Aloisi's, particularly with only one day left before the game. Regardless, something really needed to change at Brisbane because they have been poor all season.
In the last four games, Roar's opponents have scored a combined 12 goals, with both Victory and Wellington putting 4 past them. This is not to say that Roar aren't a threat, however, as they have a useful weapon in the form of Adam Taggart. Henrique has also returned to the club and has found some goalscoring form. However, the story at the back is different, with a thoroughly poor backline conceding 17 goals this season. While Jamie Young remains a solid keeper at this level, the defenders like Avraam Papadopolous and Jack Hingert haven't provided a lot of cover for him so far this season.
On Sydney's side, we can hope that the big 2-1 win over Perth last weekend has given the players some real belief and allowed them to see a path back into the title fight. Adam Le Fondre scored his tenth of the season and Daniel De Silva provided a lot off the bench. Corica has said that he wants De Silva to play more, but it is hard to see where he fits into this line-up with Siem De Jong back and providing good link-up play.
We still have looked leaky at the back this season, with no clean sheet in the last six games. We saw out most of the game against Perth, but a lapse in concentration late in the game saw us concede from a set piece. Aaron Calver looked very good throughout most of the game, putting in a performance that saw him become part of the A-League team of the week for the previous round. With Ben Warland back in two weeks and Jop van der Linden back in three, we can hope that Calver is motivated to put in a couple of big performances over the next fortnight to cement his place in the first team.
The other complication at the back is Rhyan Grant going off to Socceroos duty for the better part of a month, starting with this game. I suspect we will see Paulo Retre playing at right back, though Joshua Brillante would also be an option there. When other defenders get back, we might even see Calver there, but he doesn't provide the dynamism going forward that we really need. We are quite likely to see Cameron Devlin come onto the bench as midfield cover and it would be nice to see him given some more time if we find ourselves in a position to dole out some minutes to young players. Given these changes, I expect our line-up will be as follows: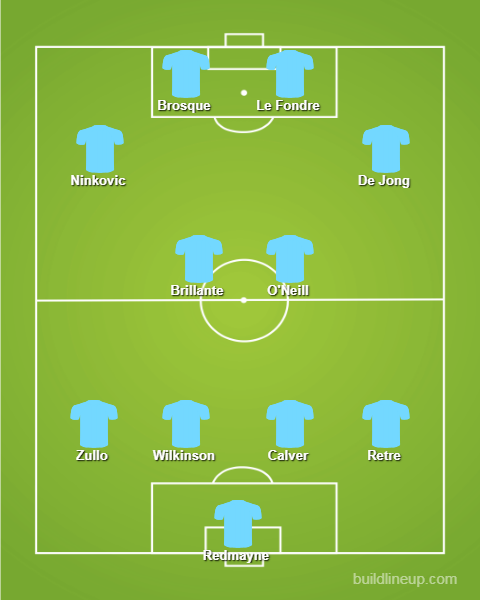 Previous Matches
Head-to-Head
Wins: 12 (29.3%)
Draws: 13 (31.7%)
Losses: 16 (39%)
Sydney FC record at Jubilee Stadium
Wins: 1 (33.3%)
Draws: 0 (0%)
Losses: 2 (66.7%)
Previous Meeting
17/03/18 – Sydney FC 1 – 2 Brisbane Roar
https://www.youtube.com/watch?v=9asDxa3gbvg
Two goals which could have been defended better, including a rare McKay header.
Last 5 Matches
17/03/18 – Sydney FC 1 – 2 Brisbane Roar
08/01/18 – Brisbane Roar 0 – 3 Sydney FC
25/11/17 – Sydney FC 3 – 1 Brisbane Roar
03/02/17 – Brisbane Roar 0 – 0 Sydney FC
30/12/16 – Sydney FC 2 – 0 Brisbane Roar
Records
Biggest Win – 3 goals (2 games):
24/11/06 – Sydney FC 3 – 0 Brisbane Roar
08/01/18 – Brisbane Roar 0 – 3 Sydney FC
Biggest Loss – 4 goals:
19/10/13 – Brisbane Roar 4 – 0 Sydney FC
Most Goals in a Game – 9 goals:
15/03/15 – Sydney FC 5 – 4 Brisbane Roar
Most Appearances vs Brisbane Roar – Alex Brosque (25)*
Most Goals vs Brisbane Roar – Alessandro Del Piero, Alex Brosque* (5)
Key Statistics
Darren Davies will be the eighth Brisbane Roar manager to coach against Sydney FC.
Sydney FC have won only 29.3% of games against the Brisbane Roar, the lowest record the club have against any opponent.
The previous game was Michael Zullo's 75th appearance for the club.
Note: These statistics only include league games, finals, FFA Cup, OFC and AFC Champions League and Club World Cup, unless otherwise stated.