A-League Round 6 – Preview
Central Coast Mariners vs Sydney FC
Central Coast Stadium
Saturday 1 December 2018
Kick off: 5:35pm
Match Preview
Discuss this game on the forum here
A disappointing defeat against Victory on Sunday might bring us down to earth: this very clearly isn't the same team as it was during Arnold's tenure. This game, however, presents a great opportunity to pick ourselves up from a disappointing result. The Mariners are winless from their first 5 games (in fact CCM haven't won a competitive game since February). There were some positive signs from CCM on Sunday as they really challenged the Glory. It took a last-minute winner for Perth to come away with all three points.
CCM do have some firepower on paper, with Ross McCormack being the obvious name. He has only scored once this season but he showed in his time at City that he can find the back of the net when given a chance. Otherwise, there have been scattered goals from throughout the team with no real standouts. Kalifa Cisse received a red card late in their game against Perth, so Jake McGing is likely to step in at centre back.
Ultimately, this is the sort of game that we should be winning. If we can't beat a bottom-of-the-table Mariners side, then we will seriously have to reconsider our chances of competing for the title this season. Hopefully this presents a good opportunity for our attack to gel a little bit more against weaker opposition and our full backs may be able to put in crosses which are more suitable for Adam Le Fondre.
After Sunday, Corica has a couple of changes which he might want to mull over. Daniel De Silva is ineligible to play against CCM, because they are his parent club, freeing up a bench spot for one of the youth players (maybe Marco Tilio?). Of course, if Siem De Jong is back to fitness, it would be a great opportunity to ease him back in with some minutes off the bench. Corica might also wish to consider putting Aaron Calver in for Jop van der Linden, though it is hard to see him doing that off the back of just one game. Given this, our team is likely to remain the same: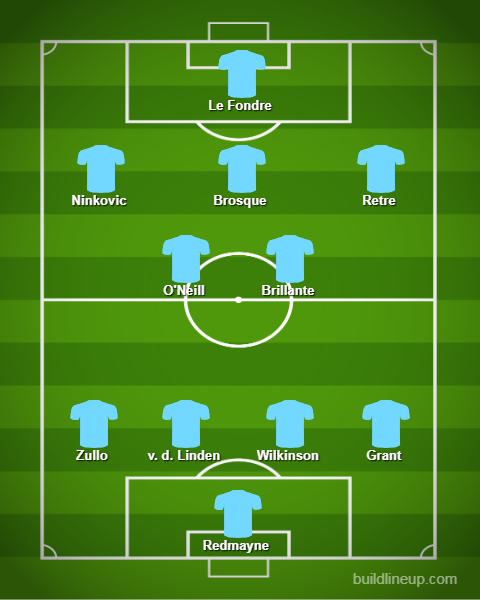 The Cove express leaves Central at 2:21 and pregame drinks are at The Gosford Hotel:
https://www.facebook.com/TheCove23/photos/a.376447625769306/1986717308075655
Previous Matches
Head-to-Head
Wins: 19 (47.5%)
Draws: 9 (22.5%)
Losses: 12 (30.0%)
Sydney FC record at Central Coast Stadium
Wins: 7 (36.8%)
Draws: 5 (26.3%)
Losses: 7 (36.8%)
Previous Meeting
24/03/18 – Central Coast 1 – 2 Sydney FC:
https://www.youtube.com/watch?v=zU4TQUzM2t8
A majestic winner from the Albino Messiah.
Last 5 Matches
8/01/17 – Central Coast 2 – 3 Sydney FC
10/03/17 – Sydney FC 1 – 0 Central Coast
10/11/17 – Central Coast 2 – 0 Sydney FC
20/01/18 – Sydney FC 1 – 1 Central Coast
24/03/18 – Central Coast 1 – 2 Sydney FC
Records
Biggest Win – 4 goals:
5/11/05 – Central Coast 1 – 5 Sydney FC
24/01/15 – Central Coast 1 – 5 Sydney FC
15/10/16 – Sydney FC 4 – 0 Central Coast
Biggest Loss – 5 goals:
3/11/12 – Central Coast 7 – 2 Sydney FC
Most Goals in a Game – 9 goals:
22/12/07 – Central Coast 4 – 5 Sydney FC
3/11/12 – Central Coast 7 – 2 Sydney FC
Most Appearances vs CCM – Alex Brosque (22)*
Most Goals vs CCM – Alex Brosque (7)*
Key Statistics
Sydney FC have won 9 of the last 12 games against CCM.
The last time Mike Mulvey faced Sydney FC (as Roar coach on 24/11/14), Sydney won 2-0. That was Graham Arnold's third league game in charge of Sydney FC.
Sydney have scored at least once in each of Steve Corica's ten games as permanent head coach. Sydney also scored in both of his games as caretaker in 2012.
Note: Appearances and goals only include league games, finals, FFA Cup, OFC and AFC Champions League and Club World Cup.