A-League: Round 4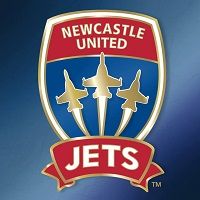 Newcastle Jets 1 – 1 Sydney FC
McDonald Jones Stadium
Saturday 11 November 2018
Kick off: 7:50pm
Discuss this game on the forum here
First off, vote in the SFCU player of the season poll here
In Summary
Sydney started strong against Newcastle in yesterday's game, however Newcastle's goal from a corner rescued a point for last season's runners-up.
Adam Le Fondre started well for the Sky Blues, heading a ball onwards and putting himself in a great position to beat the keeper. His placed effort went just wide, however. It didn't take long for Sydney to open the scoring though, as Brandon O'Neill sprayed a fabulous ball out to Rhyan Grant on the wing, who put in a great near-post cross in for Alex Brosque. Brosque headed it low and at the keeper. A poor attempted save saw it go into the back of the net and Sydney were up 1-0.
The rest of the first half didn't see too many clear opportunities for either side as the game descended into an arm-wrestle through the middle of the park. Sydney were playing some lovely football however, keeping possession well and winning back the ball regularly in midfield. Unfortunately Topor-Stanley was having a good game at the back for the Jets and he blunted many Sydney attacks.
The second half started fairly slowly, but there was one opportunity as Jop van der Linden put through a ball for Milos Ninkovic, who put in a low cross for Le Fondre. Moss was able to smother it, however. Ninkovic also had a dipping strike from range which Moss had to tip around the bar.
As the game wore on, Sydney gradually ceded more and more possession and started sitting deeper. Whether it was fatigue or the Jets actually turning up, it did result in more chances for the home side. A corner taken by Petratos was turned in by Cowburn at the near post to see the Jets equalise. Joshua Brillante, who had otherwise played well, probably could have done more to keep the shot out and Brandon O'Neill, who was also playing well, could have done more to challenge Cowburn, but with the way the game was going it is hard to say we deserved the win too much.
With the game nearing an end, substitute Charles Lokoli-Ngoy had a fantastic one-on-one opportunity with the keeper which he could have taken on his left boot. He slowed the ball and took it on his right however, and Moss was able to smother it. It is easy to see that this may be one of those moments that people will remember when judging his performance at the club.
You can view the match highlights here:
https://www.sydneyfc.com/video/full-time-highlights-newcastle-jets-v-sydney-fc-1
Post-match Statistics
Rhyan Grant played his 150th league game for the club tonight (he is fourth on the all-time list of league performances behind Terry McFlynn, Alex Brosque and Seb Ryall). He has been an amazing servant and I'm sure he will go on to make many more.
Alex Brosque has scored 13 of his 71 competitive goals against Newcastle, more than any other club. His second highest is Perth with 12.
Ernie Merrick has now gone 3 games without defeat against Sydney FC.
Player Ratings
If you've read this far, go and vote in the SFCU player of the season poll
Redmayne – 6 – Did what he had to do and was quite good in the air. Can't be blamed for the goal.
Zullo – 5 – Did not provide his usual attacking outlet down the left which made us appear unbalanced at times.
Van der Linden – 6 – Good distribution which helped going forward. Not many, if any errors.
Wilkinson – 5 – A quiet and competent game where he didn't have to do too much.
Grant – 5.5 – Provided good width and attacking movement, including putting in the cross for the goal, but the Jets often got in behind him.
Brillante – 6 – Good distribution and defensive work. Was on the post for the goal which counts against him, but overall a very solid game.
O'Neill – 7 – Broke up play really well and tremendous passing. He didn't misplace many balls all game.
Ninkovic – 5 – A quiet game by his standards but still dictated play up front at times.
Brosque – 6.5 – Scored the goal and his usual brilliant movement in attack to open up space.
Retre – 4 – Maybe harsh but he was anonymous in attack. Did provide cover on the right when Grant attacked but didn't provide much positive play himself.
Le Fondre – 5 – Could have had a goal early on. Provided some good running as usual but wasn't as good as he has been in the other games this season. Was not helped by service.
De Silva (sub) – 5 – Didn't make much impact. Provided far less work in defence than Retre and we looked more vulnerable when he came on.
Lokoli-Ngoy (sub) – 4 – Could have had the winner but didn't take the opportunity. Has to start scoring soon.
Calver (sub) – N/A – Played about a minute.