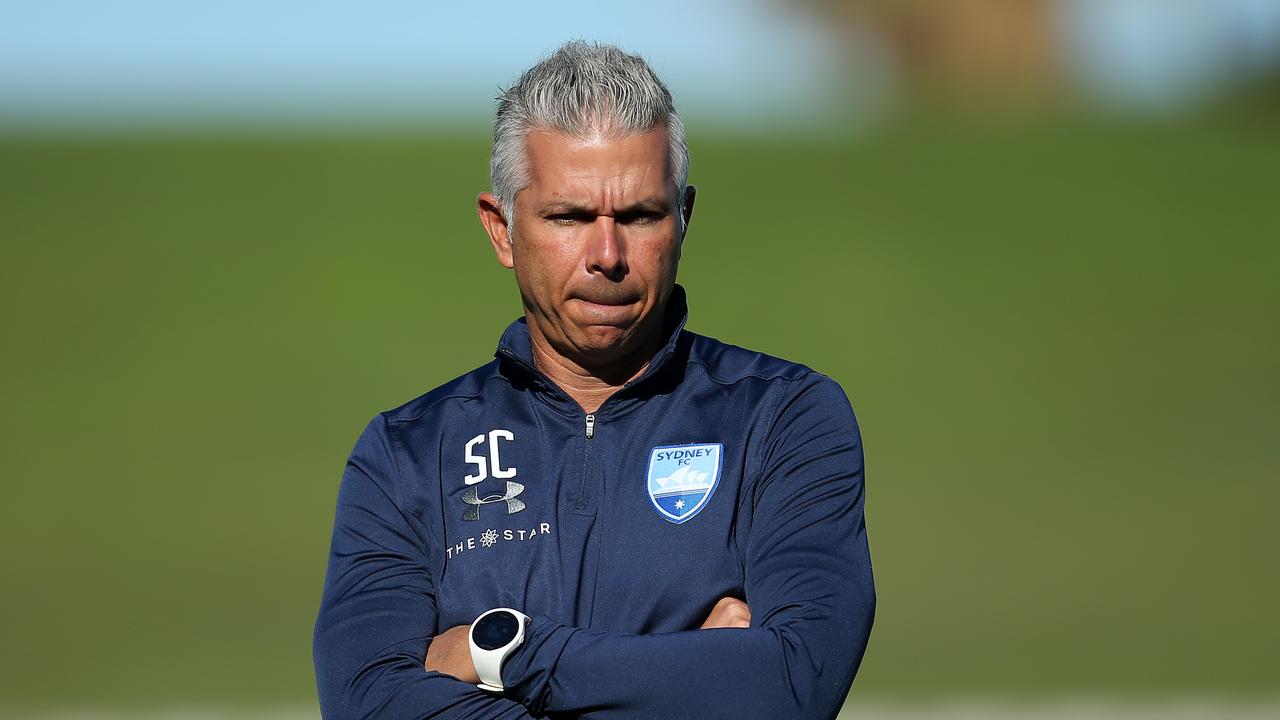 I could think of worse ideas than for Sydney to do some one-touch passing at training over the next few weeks. 
It's been a constant of Corica's tenure that nearly every time a Sydney player receives the ball, that they take a touch to receive and control the ball, then pause and look for their teammates, then they consider their potential options, then they make their decision, and then pass.
For an amateur park football team this would be great.
But not from a professional side that plays at the continental level.
In terms of running pace, Sydney FC aren't a particularly fast football side. Not generally, and not compared to other A-League sides this season.
Sydney taking multiple seconds to move the ball from player to player only slows the team down even further. 
Grant, Sydney's quickest player, often has his speed negated by Caceres over-reliance on lateral and back passes, and Baumjohann's apparent distaste for running.
Grant's bursting sprints forward are often unrealised due to a teammate taking an additional couple of seconds with the ball, allowing the opposition fullback to catch up to him and close him off as an option – often Sydney's only good attacking option.
The lack of one touch passing makes Sydney a predictable team for opponents to face. 
Being predictable, smart coaches have a great opportunity to tailor their tactics to outplay and overcome Sydney.
By knowing that Sydney players receive the ball at low-to-medium pace, and nearly always hold it before passing, there are a range of strategic choices that would make Sydney's lack of one-touch a liability. 
If I was an opposition manager I'd have my team barreling in with the hardest tackles possible at all times. Actual A-League managers could likely come up with something even smarter than winning by physical battery. 
In any case, the opportunity is there, which is a problem for Sydney FC.
The clear benefit of Sydney's lack of one touch passing is that Sydney are incredibly measured at controlling the ball. 
They're the most adept team in the competition at passing the ball up the field from central defence all the way to the 18 yard box without being dispossessed.
But when they finally reach there, they're often facing nearly the entire opposition back in defence.
Even worse, they often reach there with almost no forward momentum. 
And when they get there, Sydney continue to slowly pass-trap-touch pass-trap-touch pass-trap-touch amongst themselves outside the box, until a player takes a low percentage chance to score and usually gets dispossessed, puts a weak effort on goal, or misses the goal entirely.
It's worth noting, that in the first 5-10 minutes of the first half and last 15-20 minutes of the second half that due to the game being less settled, Sydney's lack of one touch passing is less of a problem. There are generally holes to exploit in the opposition defence early on, and later there are holes and a stretched and tired opponent. 
But it is a problem for the core of the match, and playing this way is definitively Corica's style of football.
Without Adam Le Fondre, Sydney don't have a player who will score nearly every match purely by virtue of being a cut above the standard of the A-League.
More thought needs to go into tactics that will consistently get the ball into the back of the net. 
And it should be clear by now that trying to slowly pass the ball into the goal isn't going to work.
– Thomas Grealy