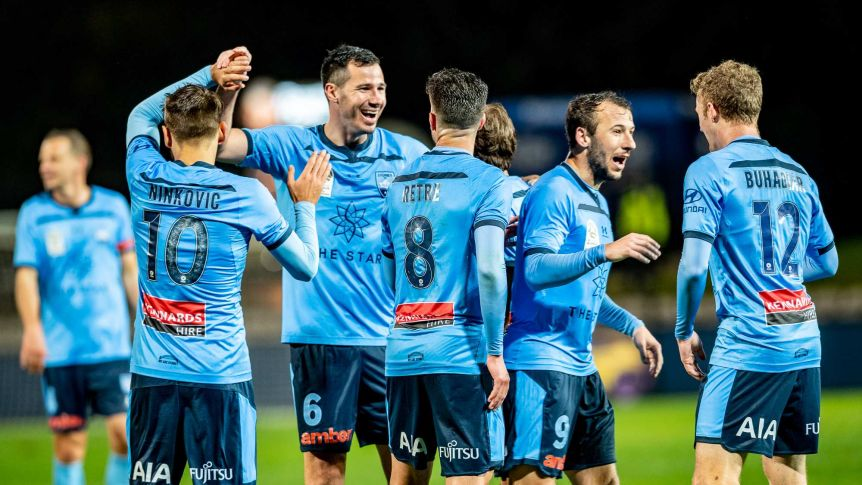 Coming into the 2020/21 A-League season, it's safe to say that the Sydney FC squad is overall still a very solid selection of footballers. 
Though the loan of Adam Le Fondre has placed a huge question mark over their upcoming success, fans of other clubs are envious of the players Sydney FC have signed for the upcoming season, and it will once again be one of the club's best ever squads. 
Goalkeepers
Andrew Redmayne was the deserved winner of the 2019/20 Goalkeeper of the Year award, beating other worthy candidates in a season where the quality of goalkeepers was higher than that of any other position on the pitch.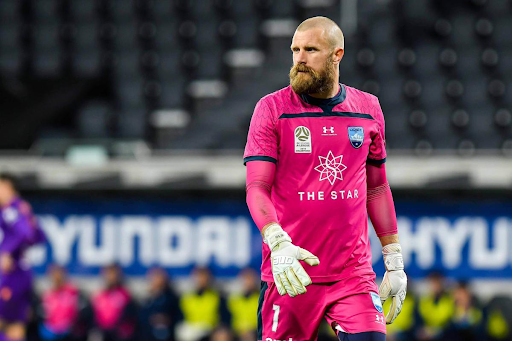 Conceding less than a goal per match in the regular season is a huge statistic that can't be overstated. He's deservedly being selected for the national team squad, even if only as its third choice keeper (he achieved his first cap in 2019 against South Korea). 
In Round 1 of the 2019/20 season, reserve keeper Thomas Heward-Belle played his first and only A-League match since three matches at the Mariners in 2015/16. He conceded twice in Sydney's win over Adelaide, with not much thought given to the performance (Nikola Mileusnic's goal would have likely beaten Redmayne). 
Heward-Belle otherwise spent another season riding the pine, with a good reputation calling him up for the Olyroos squad in November 2020. His performance in goal for Sydney FC against the Olyroos was hugely concerning, as he made basic errors and struggled with his distribution. 
His first competitive match for Sydney in over a year came against Shanghai. He offered a tentative if much improved performance than he did against the Olyroos, until a severe misjudgement saw him handball about 15 metres outside his box.   
https://twitter.com/Thomas_Grealy/status/1329391153242722304 
Defence
To be blunt: Sydney FC have an incredible defence by A-League standards. 
Their starting back 5 is stellar compared to A-League teams from every season. Sydney boast one starting Socceroo (Rhyan Grant 12 caps) and three ex-Socceroos (captain Alex Wilkinson 16 caps, Ryan McGowan 20 caps, and Michael Zullo 10 caps).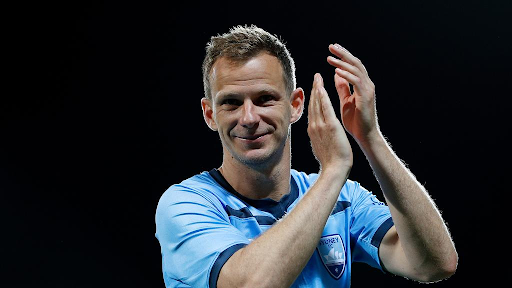 They're backed up by Ben Warland, who would likely start at centre back at every other A-League club. Sydney have two Olyroo defenders in Joel King and Harry Van Der Saag, with King playing most matches last season due to Zullo's injury. The defensive stocks are rounded out by Patrick Flottmann, who has played for the Australian U20's and is unlucky yet to receive Sydney FC first team minutes. 
Notably, none of these players are new to the club. Some have been at Sydney FC for years. 
Last season, with Zullo mostly unavailable and Warland completely out, Sydney FC still conceded less than a goal per match. 
It's a defence that will only be beaten by very high quality opposition players or opposition players having exceptional moments. 
Midfield
The six midfielders currently signed by Sydney FC's combine to make a solid midfield by A-League standards. 
It lacks depth in numbers, and could really use at least another high quality starting XI midfielder. It's more likely that starting XI player addition won't occur, and that the depth will come from nineteen year old Calem Nieuwenhof. 
When he left for Pohang Steelers at the end of 2019, Sydney FC just didn't replace Brandon O'Neill, and a year on it doesn't seem like they have plans to. When he left, O'Neill was arguably the best central midfielder in the competition. He was criminally underrated in terms of what he delivered, and how he made the Sydney team as a whole function so well. 
Sydney FC's midfield scored only 11 of their overall 49 goals in the 26 regular season matches, with 5 of those being scored by one player: Miloš Ninković. Ninković is one of Sydney FC's best ever players.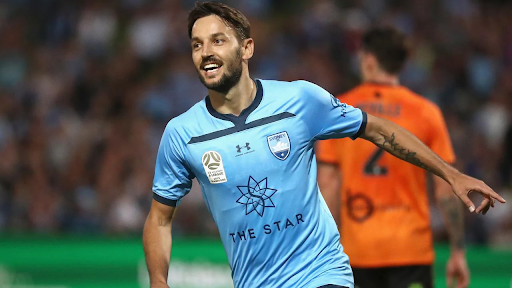 Turning 36 at the start of this season, the expectation has been there for the past two years for him to drop-off significantly, and it just hasn't happened. Last season in particular, with newcomer Joel King at left back, he put in extra work to help on the left hand side of the pitch. 
Ninković has proven that he is still up for a full ninety minutes of quality football each week. His flair on the ball is arguably the best in the league; only Diego Castro can match his finesse. However, Ninković managed to do so on a weekly basis, playing an additional 14 A-League matches more than Castro over the past two seasons. 
Luke Brattan is a player who is worthy to start in central midfield at any A-League club. It could be considered that he's a bit awkward in terms of what he does best, how to get the best contributions out of him, and how to work his qualities into a team formation (especially Sydney's awkward 4-2-2-2). Thankfully, Brattan is skillful enough to make it work at A-League standard. 
Alex Baumjohann, Paolo Retre, Anthony Caceres, and Christopher Zuvela are all up to playing at A-League standard. They do all have exploitable flaws though. 
Alex Baumjohann has natural footballing talent many A-League players would be jealous of. However these days he generally doesn't, and arguably can't, put in for ninety minutes. He's much lower value and arguably a liability when the players around him are lower quality, notably when Rhyan Grant is absent on international duty. It's also possible to get under his skin. 
Paolo Retre is maybe up to being A-League starting XI quality at a Mariners or Jets, but not at the team doing the title double. He played every A-League match for Sydney FC last season, starting 24 of them. This was mainly due to O'Neill leaving after seven matches, Zuvela being out injured for nearly the whole season, Sydney generally lacking midfield depth, and by virtue of him being the most defensive of the remaining midfielders Sydney did have. 
In 2018/19, Retre also had an excess of unexpected game time (21 matches and 15 starts), in large part due to Siem de Jong's long term injury, and to a lesser extent Trent Buhagiar and Chris Zuvela's long term injuries.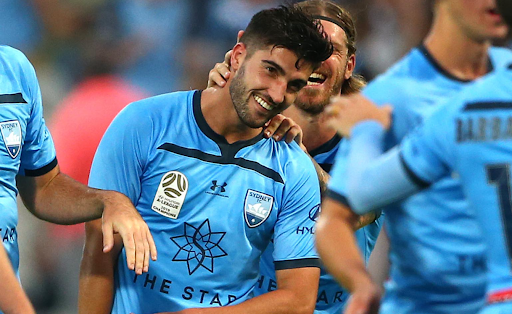 In 2019/20, Retre copped nine yellow cards, which was equal-top of the A-League. This was more than a quarter of Sydney FC's yellow cards last season (Sydney still managed to walk in the 2019/20 Fair Play Award with only 35 yellow cards).  
At 27, Retre is still generally recognised as a utility player; great for a squad, but a gamble as a defined starter for a whole A-League campaign. His positional awareness, quality of passing, mistakes in contests, and close to zero value as a goalscorer attest to this. He only scored twice last season, with both goals coming in the space of a seven minute period in the same match, and only once in the previous season.
On the upside, it is clear to see that Retre has progressed quite significantly as a footballer since joining Sydney FC, and he does contribute to an overall winning team. Ultimately though, these are weaknesses that Sydney shouldn't look to go the length of a season with in their starting XI. 
Anthony Caceres can be classified as a frustrating player, having never reached the promise and the hype around his entry to the A-League. For a player with a reputation as an attacking midfielder, his constant go-to is the safe 10-15 metre pass, either back or laterally, rarely forward. 
It's difficult to see what he specifically brings to the squad and the Sydney FC team, apart from his considerable match experience at A-League level (147 matches and 104 starts). 
Caceres is also another player that can't be relied upon to score a goal. Since joining Sydney FC in the middle of the 2018/19 season, he's played 40 regular season matches, starting 26, and has been good for only two goals. 
Chris Zuvela had all the promise coming through Sydney FC youth sides, but has been beyond unlucky with serious injuries since reaching the first team squad. He's still young, but has missed so much game time. Though all the hope is there that he can contribute, the expectation is that he will still be working his way back into A-League football this season. 
Forwards
Whether Sydney FC do or don't replace Adam Le Fondre will likely make or break their upcoming season.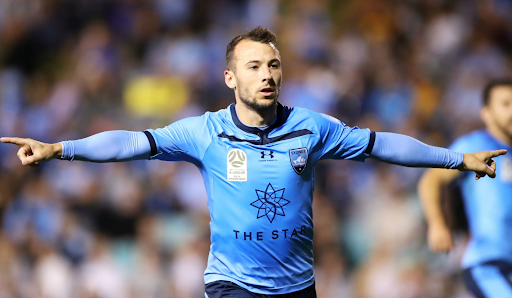 To replace a player of his prowess properly is a big ask for an A-League club's recruitment efforts. With only five weeks until the new season begins it is still unclear whether Sydney FC are even going to. 
When Marc Janko scored 16 goals for Sydney FC in the 2014/15 season, it was the most goals a Sydney FC player had ever scored in an A-League season. The previous two seasons, Alessandro Del Piero top scored with 14 goals in 2012/13 and 10 goals in 2013/14 (with five of those in 13/14 coming from the penalty spot). 
Janko's goalscoring was a huge factor in bringing back the club's reputation as A-League contenders. Sydney FC immediately faltered on this the following season, when they didn't replace the leaving Janko with a striker who would score goals at the same level. 
Bobô joining Sydney FC in 2016/17 has seen the club go four years running with a striker leading the line that can score more than a goal every two games. 
The Brasilian managed a goal per game in his second season, leaving the club after two years with a scoring rate of 0.737 goals per A-League match (including finals). 
Playing the same number of matches as Bobô, Adam Le Fondre continued this level of goal-scoring reliability over the past two A-League seasons, scoring 0.684 goals per match (including finals). 
During Sydney FC's return to form in 2014/15, in addition to Janko's 16 goals, supporting attackers Alex Brosque also scored nine goals, Shane Smeltz scored eight, and Bernie Ibini-Isei scored seven. 
These were hauls that would have topped the club's goal scoring charts in previous leaner years. Starting Sydney FC striker Bruno Cazarine never reached 10 goals in a regular season, nor did Sasho Petrovski, John Aloisi, Mark Bridge, Ranko Despotović or David Zdrilic (and the less said about Juho Mäkelä the better). 
Though Bobô dominated with 15 goals in his first season in 2016/17, he was significantly supported by goals from Alex Brosque (11), Miloš Ninković (9), and Filip Holosko (8). Even in his goal-a-game season Bobô wasn't alone, with Adrian Mierzejewski scoring 13 times. 
The value of supporting goalscorers is hugely significant to Sydney FC's recent success. Though Le Fondre only scored three goals fewer than Bobô in the same number of matches, Sydney scored an average of 2.2 goals per match in the Bobô seasons, but dropped to 1.73 goals per match over the past two Le Fondre seasons.
 In 2018/19, Alex Brosque supported with eight goals, with the constantly injured Siem de Jong the next highest contributor with four. Kosta Barbarouses also supported with eight in 2019/20, with Miloš Ninković the only other notable contributor with a handful of goals. 
Without Le Fondre at the club, Sydney FC's forward stocks are looking very thin. A-League veteran Barbarouses is the known first-teamer, fringe Olyroo Trent Buhagiar is expected to appear significantly this season (having returned in mid-2020 from long-term injury), and Luke Ivanovic fills out attackers in the squad.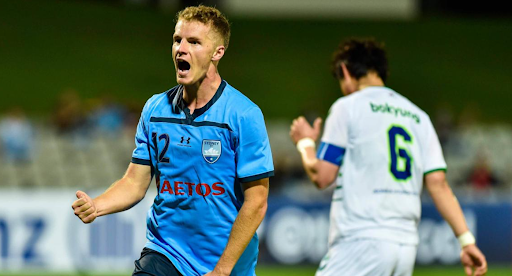 With no comment on the quality of Barbarouses, Buhagiar, and Ivanovic, a fourth forward is almost definitely required for an A-League season. 
A starting striker replacement for Le Fondre has been the expectation since rumours of him leaving to India surfaced in August. 
When Sydney FC agreed to loan Adam Le Fondre at the end of October 2020, coach Steve Corica noted that "We have some good young strikers at the club who deserve their chance and we have already begun the search to replace Adam." The club also confirmed that: "The Sky Blues will receive a loan fee for the striker and hope to be able to conclude a deal for a replacement shortly."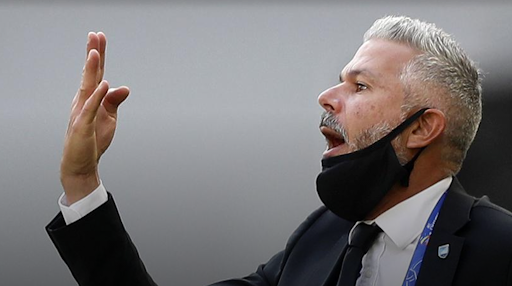 After the club's frustrating Champions League loss to Shanghai SIPG on 18th November 2020, the club match report stated that: "Corica heaped praise on striker Trent Buhagiar, and said he believes the speedster can assume the vacant spot left by Adam Le Fondre who's departed for India." The report also quoted Corica as saying: "I spoke to Trent when Adam Le Fondre left and this was his opportunity and I thought he was excellent." 
Since his long awaited return from injury, Trent Buhagiar has been showing all the signs of finally having his break-out season. He looks up to the task of regularly scoring against A-League defences, and if he was to start every match this season Sydney could reasonably expect ten goals out of him. 
Unfortunately, in 2020, Kosta Barbarouses has delivered diminishing returns on his high quality performances of yesteryear. Though he scored seven times in the first half of the 2019/20 A-League season, he managed to score only one penalty goal in the last ten rounds and the finals series. He has continued this form into Sydney FC's preseason, with costly easy misses against Shanghai SIPG. 
https://twitter.com/Thomas_Grealy/status/1329365472672792577 
Fourth choice forward Luke Ivanovic has shown that he is worthy of his spot in the Sydney FC squad. Though not a reliable source of goals yet, the club will continue to develop the twenty year old with sporadic minutes as he works out his best position on the park. 
Sydney FC's history attests that they need a prolific striker to ensure a top of the table finish, and that generally speaking this striker needs at least one supporting goalscorer. 
Between those two players, a haul of thirty goals should safely see Sydney maintain their position at the top of the table. Less than twenty five goals combined from these two players would make another premiership win unlikely. Less than twenty would see Sydney battling for finals positions. 
In combination with a defence that conceded less than a goal per game, Le Fondre's 20 regular season goals were what delivered Sydney FC last season's Premiership. His quality and consistency on the pitch cannot be overstated. 
For the upcoming 2020/21 A-League season, it would be a huge gamble by Sydney FC to place the goalscoring burden on the still recently returned Trent Buhagiar. No matter his promise and potential, he has still only scored seven A-League career goals from 70 appearances (17 starts). 
There is no proof to say that Buhagiar can deliver goals consistently yet at A-League level, let alone at around 0.7 goals per game like Bobô and Le Fondre, or even at the level of other Sydney FC attackers. 
Adding to this, it's a significant gamble to think that Kosta Barbarouses will deliver as Sydney FC's supporting goalscorer. If his 2020 form was to continue into next year, the club shouldn't expect more than a few goals from him.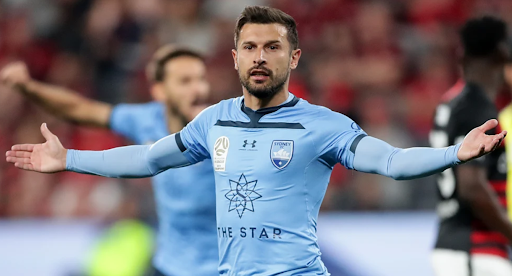 The prudent course of action Sydney FC fans are hoping for is that the club will replace Le Fondre and the significant delivery of goals will continue. Buhagiar will be the supporting attacker Sydney need to contribute additional goals, and as the secondary focus of Sydney's attack he'll be allowed more opportunities to score. Barbarouses will be available to offer support from the bench, and act as a plan-B if Buhagiar falters. Ivanovic will enter the match day squad as injuries occur, possibly as he has before in the left midfield role. 
Ultimately, it's fairly safe to say that if Sydney FC don't replace Adam Le Fondre that the club should expect to drop dramatically from the top to the middle of the A-League table. 
With only five weeks until the A-League season starts, the team and its management are currently completely focused on a continental tournament in another country. 
Back at home, concern for next season is starting to set in for Sydney FC fans, who have grown accustomed to winning. 
Sydney FC other
Youth
Patrick Wood was golden boot in the NPL NSW Men's competition, scoring 11 goals in 11 matches. SFC came 5th out of twelve sides, narrowly missing out on finals. They scored 26 goals, equal highest of any team in the comp. 
Sydney FC won the NPL NSW U20's season, though lost the grand final 1-2 to Blacktown City. 
The Sydney FC Academy is now 5 years old. From the academy, Tom Heward-Belle, Luke Ivanovic and Joel King were all selected for the recent Olyroos squad. Trent Buhagiar wasn't, but is eligible and has 9 caps for the team, and was in the squad for the 2020 AFC U23 Championship, where Australia came 3rd. Harry Van Der Saag got his first squad cap as well in 2019, also eligible. This Academy success comes off the back of a decade of the club producing footballers who would go on to A-League and overseas success. 
Asian Champions League
Sydney FC's Asian Champions League campaign is on track to be a failure again. Halfway through the group stage they're bottom of the table when all other teams have played fewer matches. 
They have conceded eight goals in three matches (2.66 per game); by comparison, in the 2019/20 A-League season they conceded 25 goals in 26 matches (0.96 per game). 
In the Champions League, Sydney FC has often struggled to get their best XI on the park, sometimes if only because of the 3+1 rule. 
In these remaining 2020 matches, they're without Adam Le Fondre (loan) and Andrew Redmayne (personal leave), two of last season's best players. They are also without starting centre back Ryan McGowan (illness), with starting centre midfielder Luke Brattan missing the first match injured, and back-up centre midfielder Anthony Caceres late into the squad (birth of child). 
Management
In Graham Arnold and Steve Corica, Sydney FC have had sustained success for six seasons from just two managers with 56.64% and 58.33% win records. 
That Corica was assistant manager helped there be no drop-off when the manager change occurred. 
Their goals for and against records are testament to their success; 1.92 (Arnold) and 1.73 (Corica) goals for, and 1.00 (Arnold) and 1.02 (Corica) goals against.